TOP 10 MOST POPULAR VAPE JUICE FLAVORS IN 2023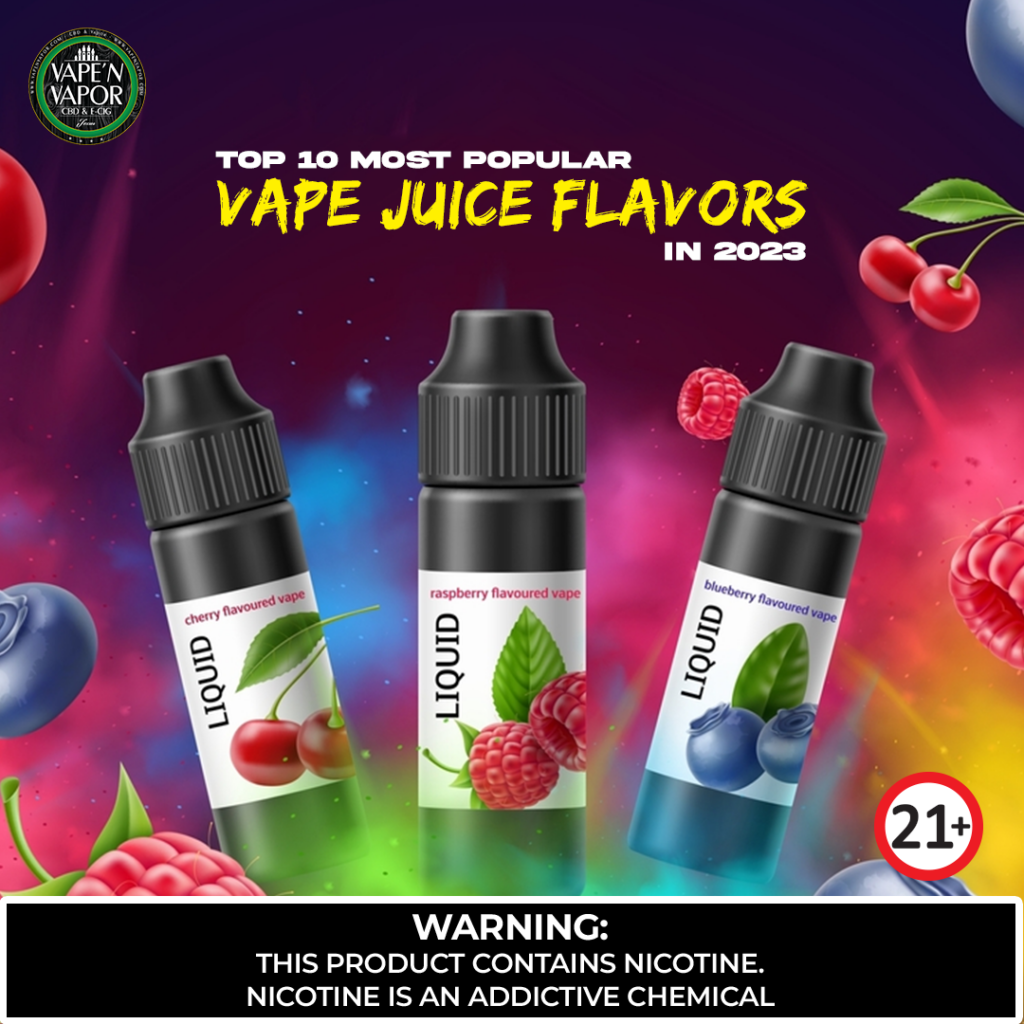 The top 10 best selling vape juices in the year 2023 come to surprise many as they are highly unexpected yet the best sellers.
The best vape juice flavor according to people is the tobacco e-liquid. To describe this flavor of vape you might use adjectives like nutty, rich and sweet. As said by the population "one way of capturing the flavor in e-liquid form might be to start with a tobacco base and enhance it with hints of caramel and almond."
The next top vape flavor would be the menthol e-liquid. Though menthol originally taste much like mint and is widely used in e- liquids, due to the taste molecules of the mint plant eliminated during the extraction procedure, menthol has no flavor. Despite the fact that menthol in itself has no flavor it is still one of the top flavors to be used in a vape because of the subtle minty flavor, also known as, "ice" in the vaping community. It is an addition to other flavors usually to make them minty and stronger for a hit, for example the flavor "grape ice" consists of grape flavoring and menthol is adding for the ice/minty aspect.
Another one of the tobacco family being in line, we have the whole leaf tobacco e-liquid. This flavor will remind of cigarettes and is absolutely everything you will ever miss about traditional harmful cigarettes. If you are looking for an alternative to cigarettes, want to quit smoking and try a better option as vaping instead, you would love finding out that this tastes exactly like cigarettes and everything more.
Continuing the tobacco range, the best vape flavor for people who are curious about what tobacco would taste like if it was sweeter? The tobacco RY4 e-liquid. This flavor is exactly what you would expect it to taste like. Simple, sweet, tobacco with all its original tobacco flavors only with a hint of vanilla and caramel.
Another one of the consumers favorite flavors that is not only amazing as a drink itself or as a popsicle but also amazing enough to be co-operated into a vape juice flavor and rank as the top 5th flavors of vape in 2023. If you have ever wondered what it is like to smoke cola, the cola e-liquid is what you should consider buying next time. The fizzy carbonated factor mixed with the original sweetness of cola proves to be a hit among consumers and is also one of the best selling flavors.
One of the most basic fruits that comes all year around and is one fruit that could be put into anything and would taste just as fresh and delicious is apple. It goes well in pies, ice-creams, popsicles, juices and now vapes. The apple e-liquid is as good as it sounds. The slightly tart and amazingly sweet flavor of an apple that captivates many and is hated by none, put into a vape makes you fall in love with vaping all over again.
Who thought there would be a time when people would be vaping coffee? This flavor is one that attracts all the coffee lovers who have to control their consumption of coffee because of how many calories it has. The coffee vape juice is the favorite of all the coffee lovers because its all you could drink in a coffee. The oddly cozy and comforting aroma of coffee without all the calories it has, I mean who wouldn't love it.
Once again in the fruity range, on number 8, comes the strawberry vape juice. Another classic after all, this tastes exactly like candy. Sweet, fresh, and slightly tangy; overall tastes just like summer with a mouth watering note and probably the ripest strawberry anyone could have tasted. Adding on to that strawberry is a fun to play with flavor, you could mix and match flavors and make a cocktail by yourself since strawberry tastes good with almost anything.
Vanilla being such a classic in desserts has come to being a classic in vapes too. The vanilla e-liquid has a soft, light creamy vanilla flavor; reminds you of the lovely stuff of your childhood memories, like the vanilla soft serve between the wafer sandwiches we used to eat every summer. Another plus factor of this flavor is that this flavor is very versatile and can go well with literally anything. Take all the flavors mentioned above, vanilla would go extremely well with all these flavors and would add a sweet, creamy flavor to all.
Lastly we have the blueberry vape juice. Do not be deceived by the fact that this flavor is at the end of this list. The blueberry vape juice is also one of the top best selling flavors of all time and not just 2023. The vape juice faithfully recreates the juicy taste and sweetness of natural blueberries. The distinctive flavor means its just as popular as a standalone vape or could be blended into a cocktail with many summer berries like strawberries and raspberries that bring a tart note along with a little bit of mint from the menthol too.
However that's not all, there are many more distinctive and exotic flavors available in vape juice. Many manufacturers also offer customizability so that consumers can mix and match flavors and try their own blend that has a distinctive taste.
Vape N' Vapor has new and exciting flavors and combinations of e-liquids for you to choose from that definitely will not disappoint! Just in case you find yourself confused regarding which vape juice flavor to choose, you can always reach out to our customer support service and we will try our best to guide you as best as we can to make your vaping journey an enjoyable one.