What to Know Before Buying a Vaping Device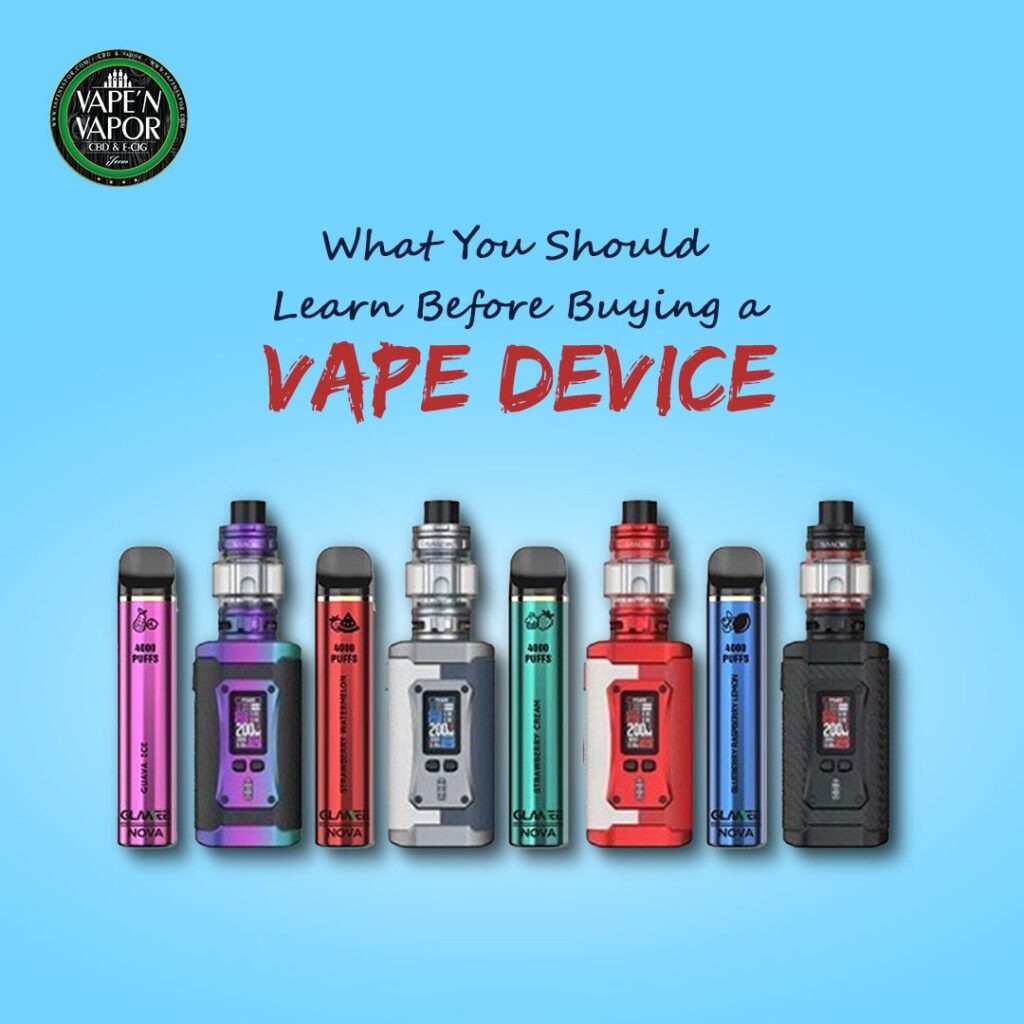 Vaping has paved a way for itself in mainstream culture, and paired with the rapid growth and evolution of the industry as a whole, an amateur may find it overwhelming to buy the best vape that suits their individual needs. After all, it can be agreed upon that compared to smoking traditional cigarettes, it's a far more satisfying and unique experience.
Among the multiple e-liquids, components, accessories, and flavors, where to possibly begin, you may ask? It can seem like a daunting task initially, but Vape N' Vapor is here to help you out.
Even if you are a novice when it comes to vaping, you will surely know what to look for after reading these points that'll help you up your vaping game and become a pro:
Select your type:
First and foremost, you ought to make sure which nicotine base you think you will enjoy most before buying a vape. Nicotine salts in vaping devices create the vapor and give you that "throat hit" that is much sought after. There are two types of nicotine salts:
PG (propylene glycol): PG is associated with a stronger hit but with less visible vapor.
VG (vegetable glycerin, or glycerol): VG has a sweeter taste and produces a much more visible vapor.
In terms of PG/VG, you'll have to try for yourself and decide what you like, as it all depends on your past smoking habits and overall preference.
Understand the device:
Nowadays, it's pretty much a piece of cake to operate any vape device. But before using it, one must understand what it's made of a cartridge (for storing the e-liquid), an atomizer (to heat the e-liquid), and a battery.
Check for Battery Power:
It's no secret that box mods have bigger battery capabilities, which is why they are a favorite among the vaping community. Disposable vaping devices might be great if you are a casual vaper, but will likely not provide you with the longevity you are searching for.
Price:
As we discussed in the points above, there are numerous vaping products and technologies, and so, the prices range accordingly. Prior to buying a vape, you ought to set a clear budget and stick to it, before you get familiar with all the types of vapes. It is important to make an informed choice, and you will surely stumble upon the right one for you with adequate research!
Disposables are convenient, accessible, and relatively cheaper, but in the long run, they end up costing more as you buy them more frequently. Consider the different options on the table, and do not fret! If you look in the right place, vaping with the right device will surely get a bang for your buck!
E-juice flavor and strength:
Picking out an e-juice, or e-liquid flavor can be tough among the plentiful options. It is challenging yet it is probably the most popular aspect of vaping! Finding your ideal flavor profile won't be easy, but it'll sure be worth it in the end. Till then, you must venture out into the world of vaping till you stumble on the one for you!
To conclude, buying any type of vape device is a personal preference, and will vary from person to person. The above-mentioned points are just general guidelines to follow before investing in your vaping journey. We recommend that you ask around, explore options on your own, and visit Vape N' Vapor's store (in-store and online), and you'll be on your way to getting the finest quality vaping product of your dreams!
And another thing to make note of is that the world of vaping is massive, and it's perfectly fine to take your time, experiment, and learn your preferences, which can change over the progression of time. We hope this blog helped you in getting a step closer to deciding on what to know before you venture into the universe of vaping!
Visit our stores or our website to find out all the answers to your questions!