Vape Pens vs Vape Mods: Which is the best for you?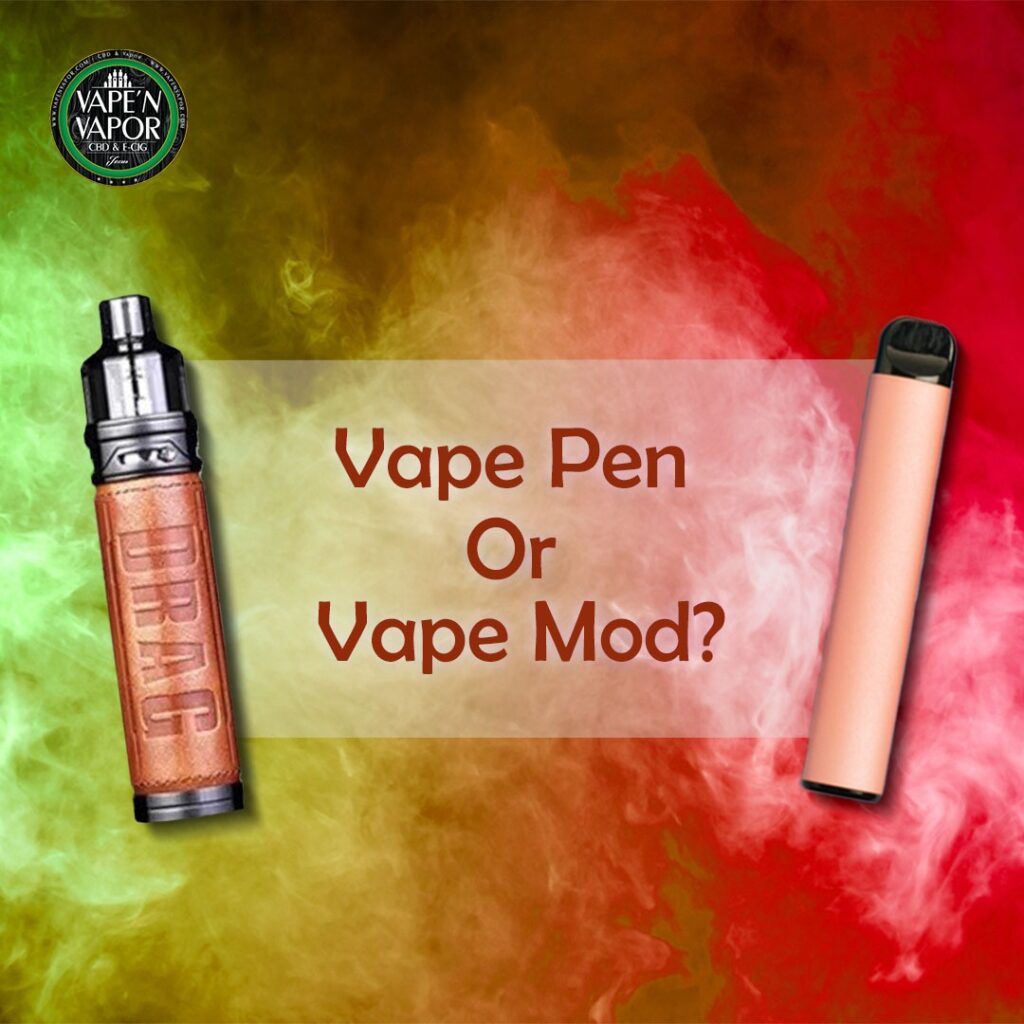 If you are looking into becoming a serious vaper, and you find all the technology, equipment, accessories, and terms to be overwhelming, then keep reading! The majority of vape users experience this at one point or another, especially in today's day and age where there are endless options for vaping. Before stepping into the enormous world of vaping devices, you may want to research which device is ideal for you so that it meets your unique demands and lifestyle, and so that you can quickly make your way through all the numerous alternatives. When selecting a vaping device, some aspects to consider are expertise level, e-liquid compatibility, battery life, portability and convenience, cost-effectiveness, features, and size and style.
Vape pens and vape box mods are two of the most popular devices. Although both are great preferences, but the knowledge about their functionality is not known to everyone and choosing between the two can also be a hassle. We've come up with a basic guide regarding these vaping devices, and the differences between them to help you make an informed decision.
Because of their simplicity, vape pens are often tiny and compact and are suggested for beginners. Vape pens contain a tank (where the e-liquid is held) in addition to the battery and atomizer (the heating element). Most pens are less costly and have restricted battery capabilities. They feature fewer customization choices and simpler controls. Some vape pens are also disposable, which means they shouldn't be used more than once.
That being said, here are a few reasons why someone might prefer to buy a vape pen over other kinds of vaping devices:
Convenience: Vape pens are typically smaller in size, more thinly made and compact, and are super easy for on-the-go.
Affordability: Vape pens are significantly cheaper than other vaping devices.
Easy to use: They are easy to use and don't require much maintenance. Operating and using a pen is generally simple as it has fewer settings.
Vaping with less maintenance: An appealing facto of Vape pens is that they are supposed to be low maintenance. They can be easily cleaned, and when you've gotten your hit, you can discard them.
Vape mods or high-end regulated box mods, are more customizable but are much bulkier and heavier in shape and size. The level of controls and customization between vape pens and vape mods is crucial. Compared to a vape pen, high-end regulated box mods have more innovative features and settings allowing users customization and a more substantial vaping experience. Here are some reasons to go for a vape box mod over a vape pen:
Customization: High-end regulated box mods allow room for personalization when it comes to settings such as temperature, and wattage, and provide you with the option to use different kinds of atomizers and tanks.
Durability: Vape mods will last you much longer than vaping devices, especially when compared to Vape Pens. They also tend to have larger battery capacities.
Power: Box mods will generally deliver a more powerful vapor, which is more intense and will give you a strong nicotine hit in just a few puffs.
Consistency: Most vape box mods possess built-in safety features and consistent and dependable performance, so you can rest assured that you'll get the same experience each time you vape.
Variety: There are many different styles and models of high-end regulated vape mods available, so you can easily find one that fits your preferences. Not only is there variety when it comes to devices, but in settings of the device itself, which can be modified to your liking.
Longevity: Box mods often last you years on end, because they are built to be durable.
With proper care, box mods have a long life span due to their durable nature, and can last for years.
For experienced vapers who want better control and more premium vaping, high-end regulated mods are a great choice. Vapers like these are willing to invest in a more advanced and expensive device, so vape mods are the ideal choice. For beginners, those looking for a simple device, those on a budget, and those vaping occasionally who do not require much of a technical or durable device, vape pens are a better choice.
Personal preferences, vaping needs, and lifestyle ultimately determine whether to use a vape pen or mod. Also, high-end regulated mods can be more expensive than other types of vaping devices, so be sure to consider your budget before purchasing. A customer service checks before buying a vaping device is another thing to consider. In case you require assistance, we at Vape N' Vapor can assist you with any questions you may have so that you have access to the finest vaping experience. Read reviews and ask other vapers for recommendations before making a final decision.